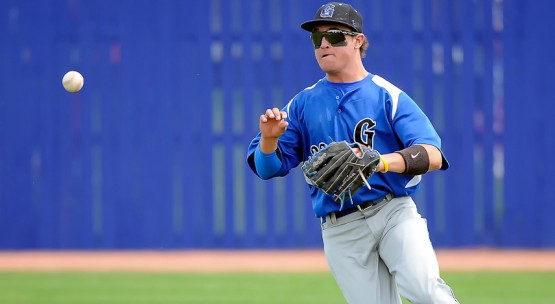 Reece Weber, quarterback from Grandview High School in Aurora, Colorado, had an outstanding season for the Wolves, setting and passing many of the schools passing, and rushing records for a quarterback. He owns the title to six school records.
Weber, passed for 1786 yards, while rushing for another 639 in the 12 games played.  Setting the record for the most passing and rushing yards in a season, and the record for most touchdowns in a game with 4, had one of the best seasons a quarterback has ever had for the Wolves. Some of the others include: most rushing yards from a quaterback in a single game, longest play resutling in a touchdown, and touchdown passes in a season. 
Weber who also plays center field and pitches for Grandview decided he wanted play baseball in college, and is headed to The Univerisity of New Mexico next year. 
Weber is heading into his final season for Grandview's baseball team. He told me he feels confident, excited, and he feels like he is at the top of his game playing the best he ever has. 
Weber is hopeful of getting drafted after his final season with the Wolves, and is sitting high on the Under Armour All American watch List. 
I spoke with Weber about his choice to attend UNM earlier this week and he was excited about his opportunities to play Division One baseball. Weber expressed that he is really looking forward to spending the next four years going to school in Albuquerque.
"It was the right fit for me, all I needed was one coach to give me a chance to prove myself and i'm determined to show him he was right" 
Weber loved the team, the atmosphere and the facilites were some of the best he had ever seen. He told me he is really looking forward to spending most of his time on the field and in the weight room improving his skills. 
Weber is hoping to leave a legacy behind after he finishes up playing at Grandview, not only on the football field with all his achievments that are sure to stick around for a long time, but also on the baseball field, where he plans to lead the Wolves to their first ever state Championship. 
-Christian Backes